Guess what! I didn't forget how to play bass. The show went really well and I am so looking forward to our next one - this Saturday in Noo Yawk. Hurrah! (Saturday, Jan 27 @ Piano's on Ludlow, NYC. 10pm)

On the homefront: C6 and I have been having some bigtime battle royales. In the past couple of days he has discovered that he has the ability to scale any and every tall structure in our house. Every day just gets so much more interesting!!! Now, all the things I had hidden up on high shelves must be moved to even higher ground. Up on the rooftop? I'm running out of room.

Yesterday I caught him hiding in the corner with a gluestick. Then he was running around with a silver photo frame with his baby photo in it. This morning he got his hands on a snowglobe and a little tub of blistex. I confiscated the items and now I'll never know what he was planning to build from them.

In other news, after a couple years off, I started to watch "24" again. I'm not sure if this is a good idea or not. I LOVE watching it, I LOVE the intensity of it - but I get all nervous-like.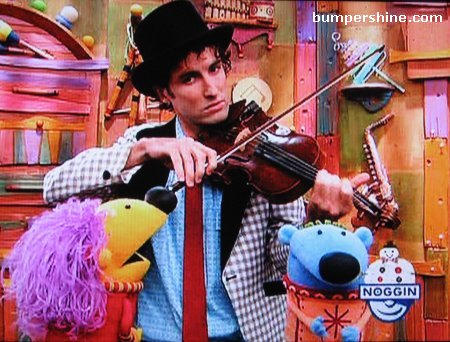 Unlike when I watch "Jack's Big Music Show" with C6. On today's episode, Andrew Bird was a guest! He was appearing as "Dr. Stringz" - he showed up, sang a ditty, played mandolin, violin, etc. and fixed Mary's broken dulcimer. (photo from bumpershine.com)

I am so happy that I get to see some really great stuff on kids tv once in awhile. But I do wish that Dora the Explorer and her cousin Diego would just GO AWAY.