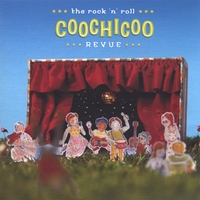 Months ago, I had asked my friend and bandmate, Ad Frank, if he had kept in touch with former Ad Frank & The Fast Easy Women bandmate Kristen Barry - and what's she up to, playing much, etc. (She's a singer, songwriter, and keyboardist.) I had played with her a little in Helicopter Helicopter and I think she's the bee's knees. Anyway, Ad informed me that she had penned a tune for a kid's album that Chris Toppin and Tanya Donelly were putting together, featuring tracks from Boston area musicians. This was awhile ago, and he didn't know if it ever came out. This morning I did a little investigatin' and whoah! - here it is! It is called Rock and Roll Coochicoo Revue! You can listen to bits of tracks here. It is chock full of goodness - sounds great! Gotta pick this one up very soon, I do.

The Rock and Roll Coochicoo Revue site

Here's a little somethin'-somethin' from the cdbaby site:
A few years ago, two Boston-based rock musicians (and moms), Chris Toppin (Fuzzy) and Tanya Donelly (Belly, Throwing Muses, Breeders), decided that they wanted to start a project that would bring together the tremendous music community they are a part of in order to create the kind of kids' music cd that didn't seem to exist, with a few rare exceptions (Dan Zanes, Ralph's World etc.). When they asked some of their friends to each write and record a children's song, the immediate response from each of the artists was of great enthusiasm. Chris and Tanya felt that they were going to end up with something quite special but what they ended up with far exceeded their expectations.

Hurrah!!!